What is
inVest?
inVest is the brand new full-function securities trading mobile app launched by China CITIC Bank International (CNCBI).
Securities trading made Instant, Simple and Easy

Trade HK stocks, US stocks and China A-shares

Customize and access watchlist price movement

Seize investment opportunities in 3 major stock markets
Trade HK stocks, US stocks and China A-Shares

Monitor securities portfolio

Subscribe to IPO

Respond to corporate action

Access real-time quote

Customize watchlist

Access market data and news

Receive push notification


Comprehensive instant market updates to keep you abreast of market conditions.
With a professional and user-friendly interface, you can simply operate with a single hand to seize investment opportunities in 3 stock markets (HK, US and China A).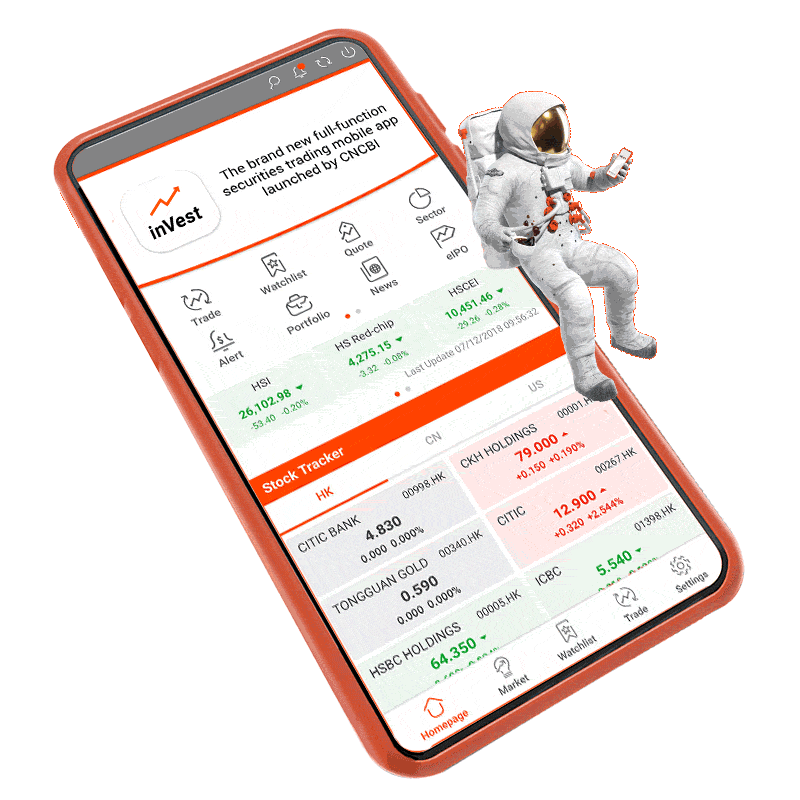 Apple and the Apple logo are trademarks of Apple Inc.,registered in the U.S. and other countries.
App Store is a service mark of Apple Inc.,registered in the U.S. and other countries.
Google Play and the Google Play logo are trademarks of Google LLC.
Risk Disclosure:
Investment involves risks. The price of securities fluctuates, sometimes dramatically. The price of securities may move down or up and may become valueless. It is as likely that losses will be incurred rather than profits made as a result of buying or selling securities. Investors should seek advice from own professional advisors as to particular tax position, including but not limited to estate duty and withholding tax that might arise from investing in overseas products. If investors investing in investment products denominated in non-local currency, one should be aware of the risk of exchange rate fluctuations that may cause a loss of principal. Before making any investment decision, investors should refer to the terms and conditions of relevant Securities Trading Services and risk disclosure statements and seek professional advice where needed. Renminbi (RMB) is subject to exchange rate risk. The Hong Kong dollar value of investment will decrease if the RMB depreciates against Hong Kong dollar. Conversion between RMB and other currencies (including Hong Kong dollar) is subject to policy restrictions relating to Renminbi and consequently the relevant regulatory requirements in Hong Kong. Such requirements may be amended subject to changes in the policy restrictions relating to RMB. RMB is not freely convertible at present. The actual conversion arrangement will depend on the restrictions prevailing at the relevant time.
The above information is for reference only and is neither a recommendation, nor an offer or a solicitation to enter into any investment arrangement. This webpage is issued by China CITIC Bank International Limited and has not been reviewed by the Securities and Futures Commission.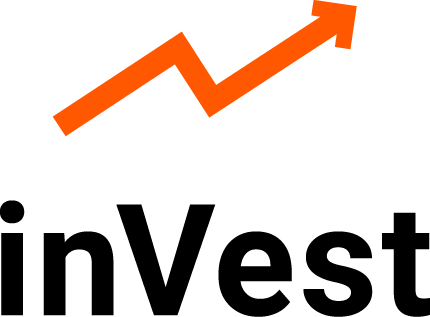 Frequency asked questions
These are a list of questions and answers relating to a particular subject, especially one giving basic information for you.
GENERAL ENQUIRIES
inVest provides the Securities Trading services for HK stocks, China A-Shares and US stocks, including:
Stock Trading
View order status
Order amendment and/or cancellation
View transaction history
Check stock portfolio
Watchlist
eIPO subscription (Only applicable to HK stocks)
Reply corporate action
Price alert
inVest provides stock quote, stock tracker, hot stocks, indices, watchlist, price alert, market news and sector.
(Note: you have to login so as to view the real-time quote and US stocks related market data)
Existing customers need to have:
so as to login inVest to enjoy the investment services.
* SMS & email notification will be sent to you when you first time log in to inVest.
Stock Tracker lists out the most advanced stocks in the market or the stocks in your Watchlist, Securities Portfolio and recently search, allow you keep tracking on the market information. While for the Hot Stocks, it lists out the top 10 stocks with the highest volume ratio and turnover rate for your reference.
You can set up to 30 stocks per market in the watchlist.
You can search the stock with the stock code, stock name or simplified PinYin in the "Quote" and "Trade" pages.
The number of remaining free real-time quotes can be checked on the stock quote page and "Setting".
inVest will send you push notifications regarding market information based on your stock portfolio and watchlist, including technical analysis, corporate action, dividend and news alert. You can turn off the relevant push notifications under "Setting" at any time.
SECURITIES TRADING
Please refer to the Investment Products Service Fees and Charges.
Upon the Bank process the order, the purchase amount will be held on One Account "Deposit". The actual amount of the money will be debited on the settlement day.
You can check the buying power of HK, China A-Shares and US markets in the "Portfolio" page.
If you want to transfer to One Account "Deposit", you can click "Currency/Transfer" button on "Buy/Sell" page under "Trade", so as to switch to inMotion for transfer.
The system will calculate the maximum affordable quantity based on your securities buying power or display the maximum available quantity based on your securities portfolio for reference. Also, there are quick trade buttons that allow you to trade instantly with Full, Half, 1/3 or 1/4 of the buying power or securities portfolio.
You can check your order status or execution result in "Order" page under "Trade". Also, You may opt to receive email or SMS for execution result.
All unmatched days orders will expire at the end of the Good Till Day. You will have to re-enter the order after the trading hours if you wish to keep the order for the next business day.
Yes, you can check, amend or cancel your order via i-banking, inMotion, CITIC mobile, Automated Securities Trading Hotline or Manned Securities Trading Hotline.
(Oder amendment service is not available in inMotion)
HK stocks: Securities and money settlement will be on T+2 day.
China A-Shares: Securities settlement will be on T day, while money settlement will be on T+1 day.
US stocks: Securities purchased can be sold immediately, while money settlement will be on T+2 day.
Order amendment is not allowed for Northbound Trading. If you want to amend your unexecuted trading order, you have to cancel the order first, and then place another new order after the unexecuted order is successfully cancelled.
Please visit the Bank's website for more details on securities trading.
ONLINE SECURITY
Sure! We're committed to protecting and respecting your privacy under Personal Data (Privacy) Ordinance.
Tap the below link(s) to find out more:
Or visit any of our branches for enquires.
Please ensure biometric authentication is supported and activated by your mobile device. You can activate the biometric authentication login service on your mobile device via "Account Setting" page under "Setting".
inVest currently supports Touch ID or Face ID login for iOS devices, and fingerprint login for Android devices.
Yes. For security reason, however, you can only login in one mobile device at the same time.
Since you have changed the login information, for security reasons, the biometric authentication on all devices will be deactivated. If you would like to use biometric authentication to login, please activate the service again.
To strengthen the security level for online transactions, starting from 22 Apr 2018, 2-factor authentication with physical security device or CNCBI Token App is required for any securities trading/enquiries via online platforms.
If you forget your password, please reset your password through the "Forget Login ID / Password" function in inMotion app, or visit any of our branches to proceed.
If you incorrectly key in your password for 4 consecutive times, your i-banking account will be locked for security reasons. Please visit any of our branches to reset your password.
You should email us immediately at ibanking@cncbinternational.com or call (852) 2287 6767 (select language, then press 7). We will take appropriate action as soon as possible.