inMotion brings you a brand-new and easy account opening experience that lets you open Savings and apply for an instant-approval Virtual Credit Card all in one App, without having to visit a branch in person.

MONOPOLY DEPOSIT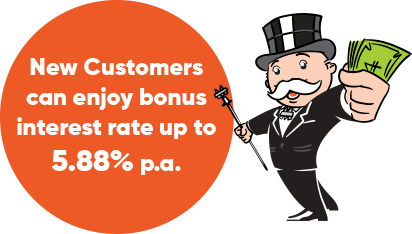 WEALTH IS JUST ONE STEP AWAY!
FROM NOW UNTIL 30 JUNE 2021, NEW CUSTOMERS who make a deposit of eligible new funds1 and register for MONOPOLY Deposit can enjoy A BONUS INTEREST RATE OF UP TO 5.88% P.A.
The bonus interest rate of 5.88% p.a. is the maximum bonus interest rate for a specified month.For example, if the Registration Period is within April, the Promotion Period will be from April to July, and so on. Please refer to relevant campaign terms and conditions for details.